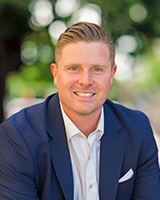 Alex Block
Vice President
ablock@blockandco.com
816-412-7373


Alex Block joined Block & Company in 2013 as commercial Sales Associate. His focus is specializing in the sale and leasing of retail and restaurant properties together with landlord and tenant representation. Although Alex's focus is in Brokerage he also works as a valuable member to the Operations and Marketing departments.

Prior to joining Block & Company Alex worked for a year as a graphic designer while he studied for his Colorado Real Estate License in Denver, Colorado. Growing up around the offices of Block & Company, Alex has held many different jobs around the company. He is a current member of the Kansas City Regional Association of Realtors, International Council of Shopping Centers, and the Retail Brokers Network.

Alex is a graduate of Regis University where he earned a Bachelor of Liberal Arts degree with an emphasis in Graphic Design. He also received an interdivisional degree in Sociology, and Business.