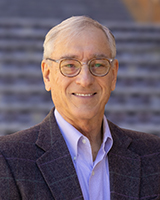 Jay Friedman
Senior Vice President
jfriedman@blockandco.com
816-412-7334


Jay M. Friedman first joined Block & Company, Inc., Realtors in 1980 where he started as a Sales Associate, specializing in leasing and national tenant representation. He also assisted in the development of numerous commercial projects ranging from retail, shopping centers, to build-to-suit facilities.

Jay attended Emporia State University where he majored in Business Administration and Finance. He continues to be an active member of the International Council of Shopping Centers (ICSC), the Metropolitan Kansas City Board of Realtors and the Denver Metropolitan Board of Realtors, where he has served on numerous special committees. Honors include Top Retail Lister for Block & Company, Inc., Realtors, Leo Eisenberg Real Estate Company, and Top Retail Producer for Fuller and Company. Jay has also been listed among the top five retail brokers in the market he has served in investment.

As a Senior Vice President with Block & Company, Inc. Realtors, Jay's main focus is on the sale and acquisition of investment real estate, single-tenant net lease investments, and external financing for his clients. Jay has sold over 7,600,000 square feet of investment real estate since 1991 with a combined value of over $900,000,000. Jay has represented such clients as Inland (REIT), Weingarten Realty (REIT), Phillips Edsion (REIT), The Johnson and Johnson Trust, Regis University, Kmart Corporation, Regency Realty (REIT), McDonald's Corporation, The Highland Equity Fund, Price (REIT), Con Agra, Wal-Mart, and Travelers Insurance Company, as well as many local and regional owners and investors.

Jay's background in the development, ownership, leasing and management of income properties, along with his desire to exceed customer expectation through service, make him uniquely qualified to assist both sellers and buyers in today's real estate enviornment.

Jay resides in Prairie Village, Kansas with both his daughters, Rachelle and Madison.