Lawrence, Kansas Golf Course within walking distance from KU acquired by a Block & Company, Inc., Realtors led partnership
October 5, 2017
A Block & Company, Inc., Realtors managed investment group recently acquired the Orchards by CobbleStone Golf Course in Lawrence, Kansas from Cobblestone, LLC. The 30.5 acres course, located at 3000 Bob Billings Parkway between Kasold Drive and Iowa Street, consists of 9-holes of golf, a putting green, a club house, along with 9-holes of Footgolf.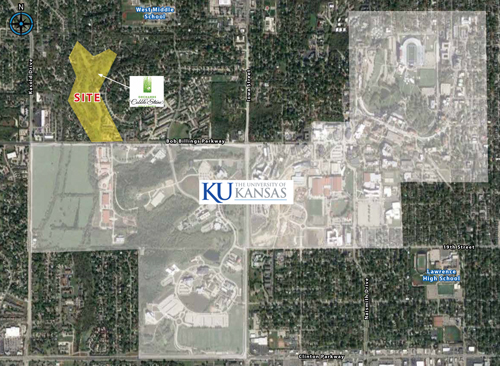 FootGolf, a fun and unique take on the game of golf that has become a phenomenon with how fast the sport has grown over the last two years. FootGolf has been around for many years but exploded in popularity nationwide after the formation of competitive tournaments and league play nationwide. The Orchards by CobbleStone is one of only five FootGolf courses in the Greater Kansas City area, making it a must-stop destination for area enthusiasts. The sport has financially saved many struggling golf courses and the Professional Golfers' Association of America and World Golf Foundation have both acknowledged FootGolf's contribution to helping golf courses generate more income, and noted that it may contribute to the growth of golf itself.
This course is ideally located blocks from the University of Kansas and rests at the bottom of a valley and is tightly nestled in between multifamily residence to the east and estates to the west. With large trees lining every hole, this track creates a fun and challenging environment that will test the skill levels of even the most experienced golfer.

"Orchards by CobbleStone Golf Course is in a fantastic location, within walking distance from the University of Kansas. We are planning to do a number of upgrades and improvements to the property in the upcoming year and give the course the attention it deserves," says David M. Block, President of Block & Company, Inc., Realtors.
David M. Block of Block & Company, Inc., Realtors negotiated the sale transaction. Block & Company will be overseeing the property management for the Orchards by CobbleStone Golf Course.
For more information please contact:
David M. Block
Full Press Release