Block & Company, Inc., Realtors brings new Planet Fitness to 93rd & Quivira in Overland Park, Kansas across from Oak Park Mall
October 11, 2017
Block & Company, Inc., Realtors successfully negotiated a long term lease with Planet Fitness to open their newest location at 9331 Quivira Road in Overland Park, KS. Planet Fitness will occupy 18,052 square feet of the over 65,000 square foot building with Best Buy as a co-tenant. Construction of a new entrance and facade is currently under way.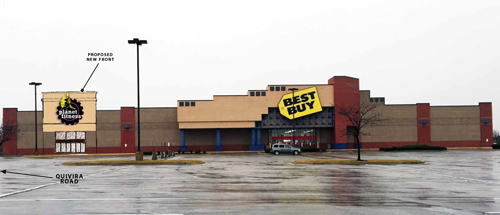 The new fitness center is located on north east quadrant of 95th Street & Quivira Road in one of Greater Kansas City's largest retail corridors across from Oak Park Mall - Kansas City's #1 Mall. Other area tenants include Target, Nordstrom, Macy's, Hobby Lobby, Sam's Club, Academy Sports, Nordstrom Rack and most national retailers and restaurants.
David M. Block, William Glasgow, and Alex Block of Block & Company, Inc., Realtors negotiated this long term lease transaction. Block & Company Development & Construction Management, LLC is responsible for the construction management of the Planet Fitness space.
For more information please contact:
Alex Block
,
David M. Block
, or
William Glasgow
Full Press Release